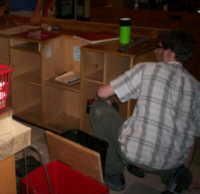 More of the same the next day. Towards evening, Joel took me into the bowels of Free Geek and we re-emerge with a pile of cables. The installation began in ernest after the store closed at 10:00 pm on July 31st. Lane 2 was taken apart.

Soon the carpenter came. I did my part vacuuming saw dust with a little dirt devil and trying to scrub out the black rectangles left on the tiles, but after carrying all the gear from the trailer to the store, with help from Jesse, a volunteer, I found myself reading the Harry Potter book.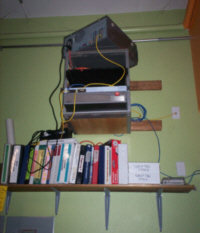 Jeff showed up. I first met Jeff in Madison, Wisconsin, when he represented Peoples Food Co-op at an IS4C meeting. The PFC contingent suffered an auto accident on the way. Luckily no one was hurt, but Jeff was the only one who made it to Madison. Jeff was a system administrator by trade, and he had come to set up a back up server to mirror the main server. It didn't take him long, and the mirror server was soon plopped onto the server rack. Note the ethernet jack high up.
Soon after Jeff left, it was time to lower the scanner-scales into place. Holes were drilled, metallic pipes fitted, cables threaded. I looked outside, the sun had come up. It was morning, and the lanes were all plugged in.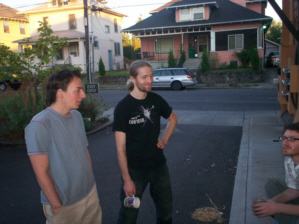 Joel called for a "fresh air break". We stumbled outside. It felt good. From left to right - Matthaus, Kenny and Joel.
Kenny worked in computer security, and soon he was making doubly sure that the POS network was internal and impenetrable from outside. Database security was also reset accordingly. Everyone had been going at it for a long time, and now finally we were running out of things to do.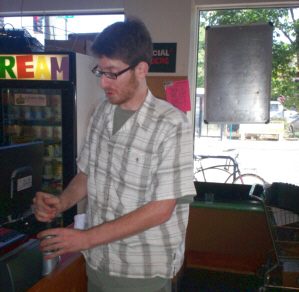 The store was scheduled to open at noon that day, but we could have opened earlier. Everything was more or less ready by 10:30 am. Joel put the caps on the monitor stands, physically as well as figuratively, it would seem. There's something we learned from previous installations - before going live, test data should be deleted from the lanes and the server, or the financial manager will be alarmed by the volume of sales in the first minutes. Just before noon, test data was deleted, and the door opened.
The first customers came in, overjoyed, apparently, by their proximity to the new Point of Sales system. I tried to take a picture of the dramatic presentation of the celebratory champagne, but unfortunately I failed, as I realized later, to get Rachel into the picture.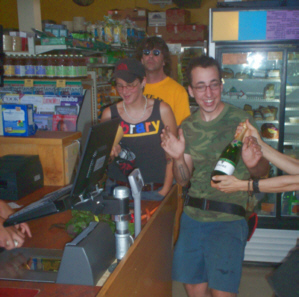 My flight was at 2 pm and I had to leave for the airport soon after the store opened. Before I left, however, I got to meet Sojo, the board member at Alberta Co-op with whom I had a conversation about IS4C a year ago. She was herself a software developer. At the time of her call I voiced the usual list of misgivings about IS4C. I gave her my "gloom and doom" speech. She understood, but Sojo was more energized by the possibilities of the system than she was concerned about the shortcomings. In the end, Alberta Co-op and Joel managed to mobilize and draw upon the resource of their community and make it all happen.
I left, feeling energized myself, despite not having slept for thirty some hours. I felt reaffirmed in my own views that open source is compatible with the co-operative philosophy, and felt rather pleased to be involved in a co-operative movement in which something like that could happen. There's something made tangle by people pulling together. And I certainly did not go home empty-handed: There was "Fannie", the back end which can now be bundled with IS4C. Above all, I had learned a great deal, and it really was a privilege to be able to work with Joel, Kenny, Matthaus, and all the other people I met there. I had a blast.